Citroën GS
[På svenska]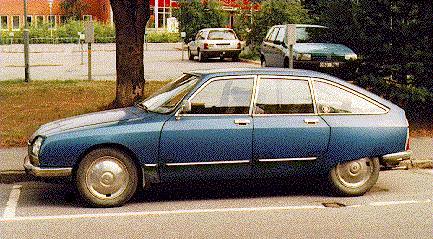 ---
This page was originally written by Jan Lindblom, who also took the pictures. Jan's page has disappeared from the 'net, but I have been given permission to reproduce the material here.
The Citroën GS was introduced in 1971. It is a French car with hydropneumatic suspension, an air-cooled four-stroke boxer engine and an advanced design (for its day). It was manufactured in several versions until 1986, when it was replaced with the Citroën BX.
When it appeared in 1971, the GS was equipped with a 1015cc engine, but in 1973 an upgraded 1220cc engine was introduced. Until the introduction of the GSA in 1980, the GS remained more or less the same, the most noticable difference being a change in the instrument panel and exterior trim around 1977. Most of the technical data given below is valid for the GSA as well.
On this page a particular GS will be described, namely, a GS 1220 Pallas -78, registration number KFF 061, chassis number GXGB62GB9027, color: blue metallic, belonging to Jan Lindblom.
Technical data:
General:
Covered sedan, four doors, front-wheel drive. Four passengers.
Dimensions: Length:4,120 m; width 1,608 m.
Top speed: about 152 km/h.
Turning radius: 10,40 m
Weight including driver: 1020 kg.
Maximum trailer weight: 800 kg.
Maximum load: about 300 kg, including a maximum of 60 kg on the roof.
Equipment: clock, voltmeter, odometer, electrically heated rear window, ashtrays both in the front and rear, trip meter.
Distance covered:about 206 000 km.
Bought: 1989, in Skellefteå, Sweden.
Price 1989: 4000 SEK.
Current status: off register.

Type: Citroën G 12.
Cylinders: Four horizontally opposed (boxer).
Cylinder bore x stroke: 77x65,6 mm.
Displacement: 1222cc.
Compression ratio: 8.2:1
Maxmum power (DIN): 59 hp at 5750 rpm.
Maxmum torque (DIN): 8,9 kpm at 3250 rpm.
Idle speed: 900 rpm.
Maximum engine speed: 6250 rpm.
Cylinder heads and crankcase made of light alloy, 3 crankshaft bearings.
Starting handle fitting to starter dog on the crankshaft included.
Valves:
Top mounted.
Two overhead camshafts (one per cylinder head).
Camshafts driven by toothed belt.
Rocker clearance (cold), inlet valve: 0.20mm
Rocker clearance (cold), exhaust valve: 0.20mm
Fuel system:
Air cleaner with dry paper filter.
Mechanical push-rod operated fuel pump, driven from the right-hand camshaft.
Dual barrel carburettor type WEBER.
Manual choke.
Fuel tank capacity: 43 liters.
Fuel: high octane.
Lubrication:
Type: pressure feed.
Light alloy oil cooler.
Oil capacity: 3.7 liters.
Oil: 10W-30.
Cooling:
Air cooled.
Fan with 9 blades, driven directly from the crankshaft.
Ignition:
Mechanical and vacuum controlled ignition advancement.
Contact breaker gap: 0,35-0,45 mm.
Cam dwell angle: 57 +/- 2 degrees.
Spark plugs: AC 42 XLS.
Electrode gap: 0,7 mm.
Transmission:
Clutch:
Single dry plate type.
Clutch diameter: 180 mm.
Gearbox, differential unit:
Mechanical gearbox, with floor-mounted gear shift.
Four synchronized forward gears, with no direct gear.
Latch for the reverse gear.
Drive shaft joints:
RZEPPA ball-type constant velocity joints at wheel end. Tri-axial joints at gearbox end.
Hydraulic system:
Single cylinder piston high-pressure pump, driven by a connecting rod from the oil pump.
Main accumulator with pressure regulator.
Hydraulic fluid capacity: 2.9 liters.
Main accumulator capacity: 0.4 liters.
Maximal cut-out pressure: 180 kg/cm.
Independent suspension. Double wishbone type in the front, one trailing arm per side in the rear. Anti-roll bars in the front and rear. Hydropneumatic suspension cylinders in the front and rear. Automatic and manual control of vehicle ride height.
Brakes:
Disc brakes all around, with opposed cylinders.
Rear braking effort depending on load.
Warning lights for brake pressure and front brake pad wear.
Parking brake:
Mechanically operated, using a handle in the middle of the dashboard.
Acting on front wheels using separate calipers.
Steering and wheels:
Rack and pinion type, ratio: 1:19
3 studs per wheel.
Wheel size: 4 1/2 J x 15.
Tyres: 155-15.
Electical system:
Voltage: 12 V.
Alternator, 510 W maximal power.
Battery: 12 V, 55 Ah, negative ground.
Starter motor power: 0,603 kW.
Four fuses, in the engine room beside the battery.

---
[På Svenska]
---
Back to my home page.
---